There are so many different ways to wear a pair of cowgirl boots. If you're new to cowgirl boots and western wear, here are a few tips to help you get started in creating your own western look!
Choose Quality
Invest in a quality pair of cowgirl boots. It's tempting to start out with a super cheap pair, but you'll be paying for it in the end – with blisters and dissatisfaction.

Pick A Pair That Matches Your Personality
Are you fun and full of spunky energy? Is your look cute and super girly? Do you "glam up" every outfit with a few dozen just-right accessories? For every answer, there's a different pair of boots that's just right for you!

For high-style pizzazz, look for fancy embroidery, high heels, pointed toes, and vibrant colors. Fun and funky types will enjoy wild animal prints, square toes, and unique leathers.

Sweet and feminine calls for cowgirl boots with a chunky toe and short boot shaft.

Look for cowgirl boots that match your attitude, and you will easily be able to build outfits around them – with items already in your closet!

To Tuck Or Not To Tuck?
The long-debated question: Should I tuck my jeans into my boots, or wear my jeans covering my boots? Hmm, good question. Traditional cowboy folk will tell you that real cowboys don't tuck in their jeans. But cowgirl fashionistas around the world will tell you to tuck in those jeans and show off your boots!

What Can I Wear With Cowgirl Boots?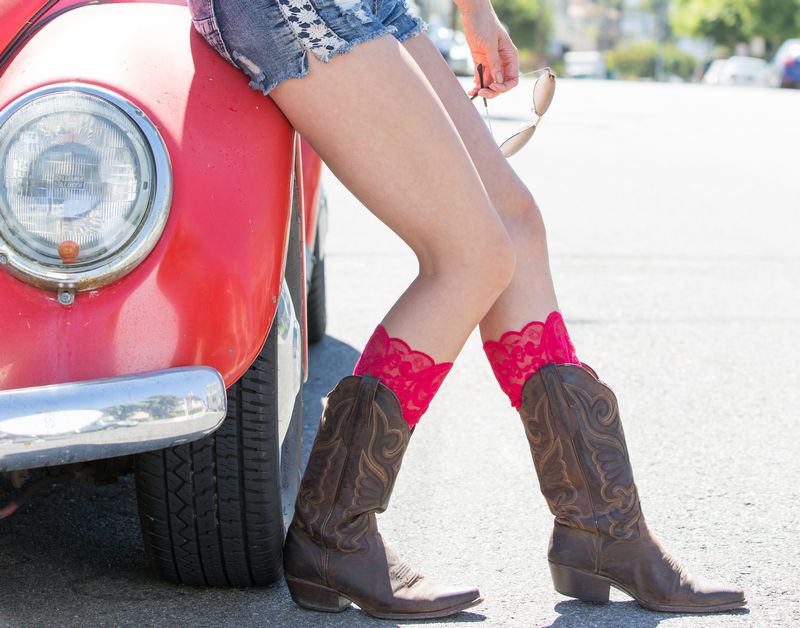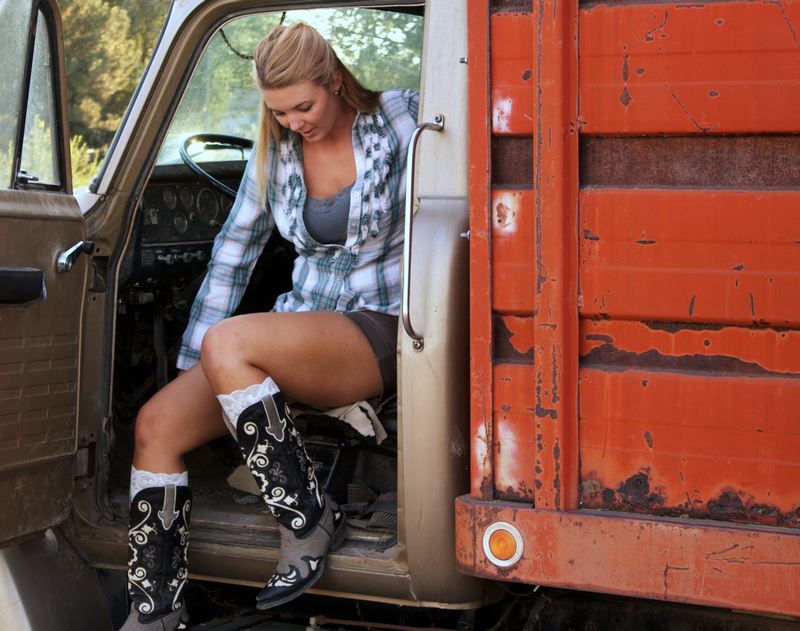 Jeans? Dresses? Skirts? Shorts? Leggings? Yes! Yes! Yes! Yes! Yes!
If you're riding, you obviously should stick with jeans to protect your legs, but if you're wearing cowgirl boots hoping to show off your western side, try them all!

Jean shorts are adorable paired with cowgirl boots. Or add a boost of romance when worn with a summer dress.

Just about any pair of cowgirl boots will work with a denim skirt.

Try leggings, Bootights and Darby's with a long sweater, skirt or with a dress.
Good To Know!
When wearing dresses and skirts with cowgirl boots, if you have short legs, wear a boot that has a shaft height of 10" or less.

Shorter boots will elongate your legs since you will see more leg between the top of the boot and your hemline.

For the very best fit, always wear boot socks with your cowgirl boots.

When wearing leggings or tights with boots, your feet might feel like they are slipping around in the boots since you aren't wearing regular socks.

Fix this by slipping on a pair of ankle socks over your leggings. The socks won't be visible, but they will make your feet much more comfortable.
The Heel
As soon as you slip your boots on, you should feel your heel "pop" into the inner sole. That pop is a sign of a great fit.

Without that pop, the boot is probably too wide. Expect some slippage in the heel.

This is normal and as you keep wearing them the leather will form to your feet, giving you a comfortable feel.
The Ball
The ball, or the widest part of your foot, should be right in place with the widest part of the sole.

Verify that the ball is not too forward or too far back. This can subsequently cause major discomfort and stress to the foot.

This ball alignment will promote good arch support from the boots.

Check to make sure if you flex your foot forward with the boot on, the boot naturally flexes where your foot flexes.
The Arch
Verify the arch of the boot and the arch of your foot have matching curves.
Toes
Rule of thumb is to have the distance of one (1) thumb of space between your toes and the tip of your boot.
Instep
It should feel a little snug but not too tight to where you feel you are strangling your foot.
The Shaft
You should be able to slide a minimum of 1 finger between your calf and the shaft.
Breaking-In
Keep in mind that the more you wear them the better the leather will form to your feet. They will seem a little snug but it's only normal.

There is a break-in period that you and your boots will have to go through together. This will be your bonding time.

Some say the breaking process could take as little as a couple of hours but in all reality it could differ for each person and each pair of boots.

If you are still having a hard time breaking them in to a comfy feel here are a few recommendations:

Apply a leather softening or shoe stretching product to all of the boot. Insert a boot/shoe tree and leave overnight.

Stuff them tight with balls of wet newspaper and leave them off to dry overnight.
For women's boots, a "B" is a narrow width, and "D" is a wide width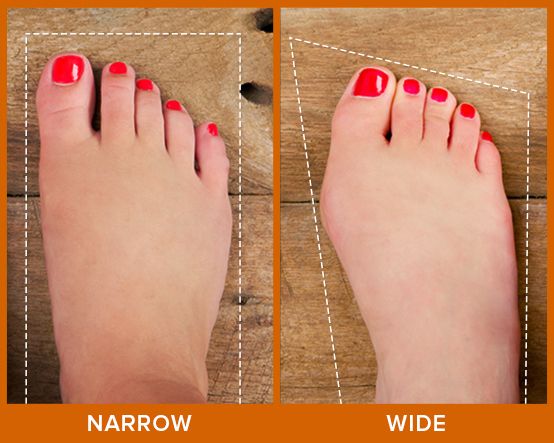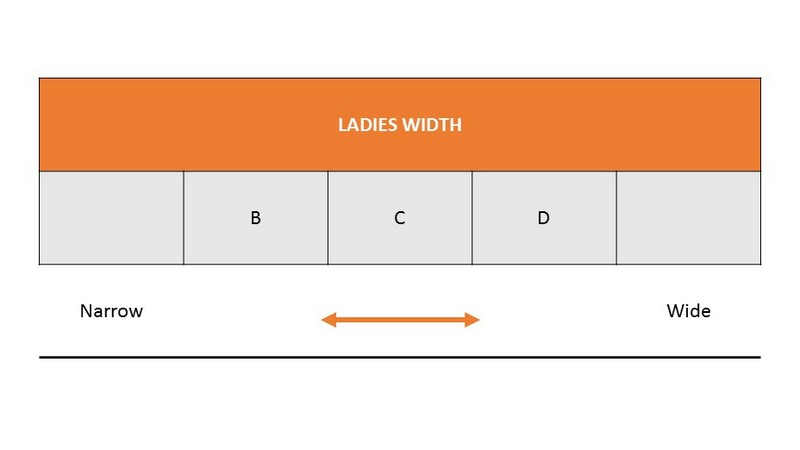 Basically, it's a sliding scale. Move to the left and the boot width narrows. Move to the right, and it widens.

When in doubt, bigger is better. You can always slip an insole in your boot and wear thick boot socks to customize the fit of your boots.

Buying too small and then taking the boot to a cobbler to be stretched may not work.

Don't worry about the shape of the toe or the height of the heel.

Cowgirl boots are designed with a foot-bed that fits your size, taking into consideration the shape of the toe.

So don't go up a size just because the toe of the boot is pointed.

The height and design of the heel will also not affect your boot size.
What if they still seem too tight or loose later?
If you are still not getting exactly the fit you want from your cowboy boots after wearing them many times, you have a few options.
Thicker socks or boot socks can help if your boots seem too loose.

You can also try adding a removable insole to the foot of the boot.

A boot cobbler can stretch cowboy boots, usually for a fairly inexpensive fee.

Stretching will not increase the size of the boot, but it should give you a bit more room in the foot area for a more comfortable fit.

Check your local listings for boot repair shops or shoe cobblers.